These additional resources are provided for you to expand your Previewing Strategies toolbox.
Bookmark this page in your browser so that you can return as needed.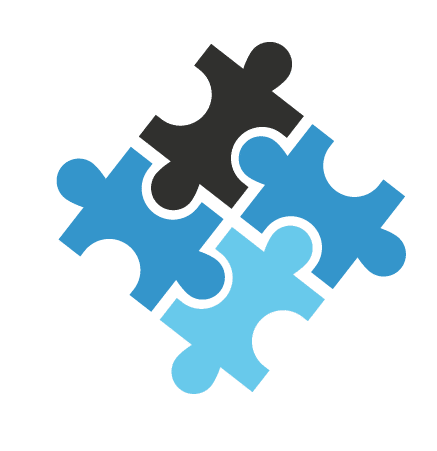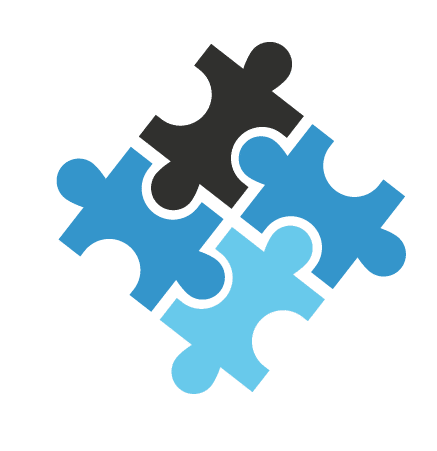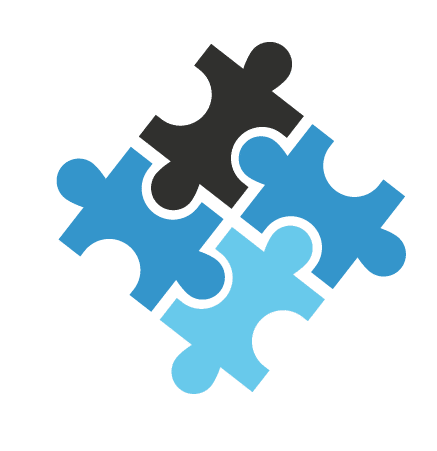 Building and Linking Background Knowledge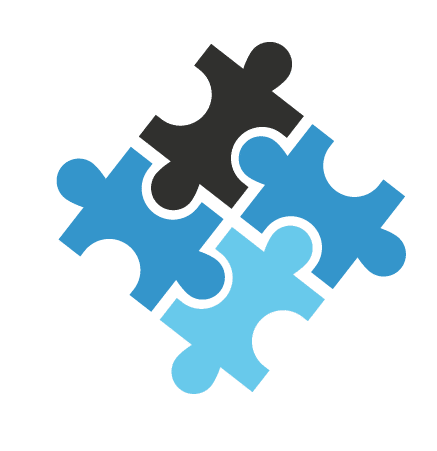 Example Advance Organizer: Sampling
Sampling is a valuable tool for teachers in setting the stage for student learning. It allows students to read or examine several types of sources to focus on what they can discover and what they wonder about its importance. This supports building students' background knowledge of a topic by introducing important concepts using visuals and verbal information. Used prior to instruction, it provides insight into students' background knowledge on the topic, their misconceptions, and even their areas of interest.

Steps for Previewing Sampling
When planning, the most important question you need to answer is, "What sources can be used in small doses to build background knowledge for students about a topic?"
Complete the strategy in advance to consider what aspects of the sources are helpful for students to consider.
Model the process of using the strategy to build background knowledge about a topic:

Think Aloud what is important to know about the source (i.e., primary or secondary source, date published, etc.)
Note the source type
Read aloud or examine the source and Think Aloud what can be discovered about it.
Model how to pose "I wonder…" questions that pertain to the source and may be important to the topic.

Pairs or groups work together to practice it with simple examples or a familiar topic.
Students individually record important ideas in their notebook to be referred to during the lesson.
Considerations for Previewing Sampling
Use the graphs, photos, and illustrations in the text to build background knowledge
Do a picture walk of the chapter. This can be very helpful.
Use historical picture books (fiction and nonfiction) that tell stories not only with words, but also with illustrations.
 Example of Sampling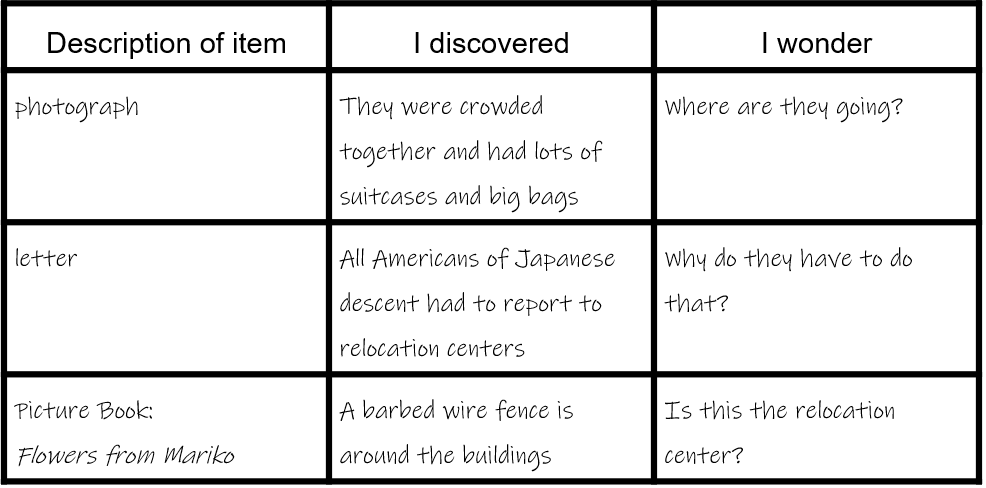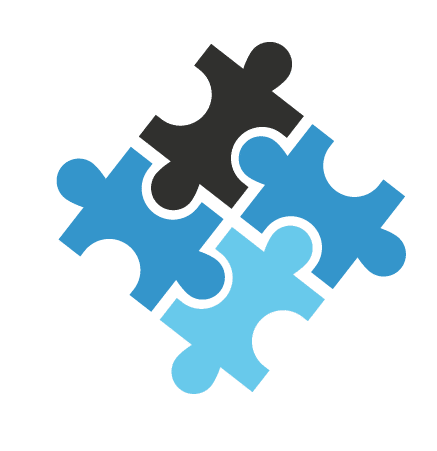 Thinking, Reading, and Writing Strategies
Deduce Anchor Chart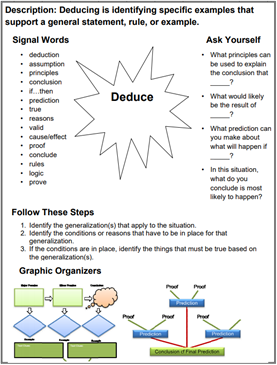 Ms. Jones is preparing to teach a lesson on how to use deductive reasoning to defend a prediction. She determined to preview the Deduce Higher Order Thinking Strategy using a game: "20 Questions." She decided she would present students with a mystery bag and they would ask her "yes or no" questions to guess its contents; pausing every three or four clues for students to work in Collaborative Pairs to discuss clues and try to reach logical conclusions about the contents. Once the answer is guessed, she will explain that they were using deductive reasoning. Then she will introduce the Deduce Anchor Chart, pointing out the steps that are necessary to follow to use the strategy, as well as the graphic organizers. Then she will model how to use the information from the game 20 Question and the graphic organizer to Think Aloud how to do each step of the strategy:
First, list the prediction made.
Second, note the conditions or reasons that will be identified from the questions students asked.
Last, check to see if the specific item meets the condition.
Ask: Are there other items that would meet the conditions? If so, what is another question to ask that would differentiate between the two?
Students will then be presented with a new bag and will play again with a small group. Groups will keep a list of information and make a guess based on the information and prove it using deductive reasoning with the organizer.
Decision Making
Ms. Miller determined that a group of her students would benefit from Previewing how to use the Decision Making process prior to an upcoming lesson. The goal of the lesson would be for students to evaluate choices in order to make the best decision possible. She introduced the process with a simple example: You have to make a decision regarding an afternoon snack and you may only choose one item: apple, coke, bag of chips, a chocolate chip cookie, or a glass of milk, or a glass of chocolate milk. Which would you choose and why?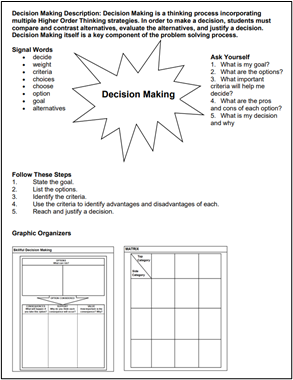 She then would explain that decision making requires thinking about options, choices, criteria, and advantages and disadvantages for decisions. She would then introduce the Decision Making Anchor Chart and the matrix graphic organizer that she selected to organize students' thinking. Students would discuss with a partner the steps and create a way of helping them remember each one, such as a visual or mnemonic.
She would then use their discussion about the snacks they would choose to Think Aloud how their decisions may change when criteria was considered, such as the nutrition benefits of each item. Pairs would discuss what other criteria could be used to help make the decision.
Finally, students would practice using the steps of the process with a simple example or scenario, such as raising money for the "Books for Every Kid" project. She would provide details as to the logistics of the project, such as timelines and budgets, and ask students to work collaboratively to justify the decisions they make regarding the project.
Students would exit the Previewing lesson by writing a $3.50 summary about how following the steps in the process and using the graphic organizer helped them to make a decision about how to best reach their goal. Students will pair and square to compare summaries.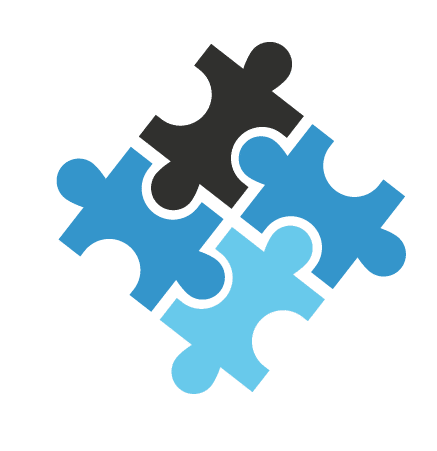 School-Wide Implementation
Scheduling Previewing
Schools have to be proactive and creative when scheduling time for Previewing. The schedule is usually determined by the model that is used for the various grade levels. Schools that have been successful with implementing Previewing let their student groups "guide" their schedule.  They schedule Previewing first and then let the other curriculum areas revolve around the groups.
If the school chooses implementation only within an individual classroom or grade-level, the scheduling is not affected because the teachers create their own schedules. If the school chooses to apply a school wide model then the schedule has to be staggered. When this happens, all staff members can be used because of the staggered scheduling.
Double Dose
The key to successful student learning and having students meet grade level expectations is that no matter which model(s) schools use, students who need extra help must get a "double dose" every day!
However, students who are two or more grade levels behind cannot get the intensity or frequency of support that they need in just one exposure per day.  No matter how good the inclusion class and teachers are, some students NEED MORE! They need a "double dose" of support in weak areas or subjects at least 4-5 times per week.
The first dose occurs with regular grade-level content teachers during the time all the other students are getting those lessons and the second dose occurs, based on the implementation model, at some other time of the day.
Key considerations for providing a double dose.
It is the support teacher's responsibility to provide remedial support as needed, BUT MOST IMPORTANTLY, to try to ensure that the students are successful in that grade-level classroom. This is where Previewing makes such a difference!
The second dose combines Previewing for regular class and reviewing / re-teaching on still weak concepts or skills. This combination tends to be 60-70% previewing and 30-40% reviewing
Download the entire list of possible implementation structures.
Administrative Plan for Supporting Previewing  (Click here to download)
Communicate a vision
Our vision for Previewing is:
Clearly define and provide expected outcomes
By implementing Previewing we will:
Facilitate collaborative planning (and assist with planning)
We provide teams with collaborative planning time:
Provide teachers with professional development (and for us to participate in or lead)
In order to enhance our teachers' abilities, we will provide professional development:
Provide teachers with coaches
In order to help teachers plan and implement practices in their classroom, our plan to support them with instructional coaching is:
Provide teachers with high levels of support
Specific support we will provide to teachers includes:
Communicate expectations and describe practices
Our communication plan includes (when, to whom, what, etc.):
Monitor implementation (walkthroughs, 5x5's, etc)
Our plan for monitoring implementation includes:
Meet with teachers and teams to establish goals, revise goals, and reflect
Our plan for meeting with teachers is:
Serve as a role model
We will serve as role models by:
Maintain data on each student with progress and goals
Our plan for collecting multiple data sources and maintaining the data and goals includes:
Conduct evaluations on the initiative
Our plan to evaluate the effectiveness of our Previewing initiative includes: