What Is It?
Why Every School Should Implement It?
"Don't put all your eggs in one basket."
The proverb about eggs and a basket is intended to remind us that if we put all of our effort or resources into doing one thing and it fails, we have left ourselves with no other options. For over 30 years, a majority of schools and districts have focused all their efforts to close learning gaps on the "basket" of Remediation. Unfortunately, this singular focus has failed over and over to move the vast majority of students to grade level. Worse, Remediation alone actually hurts students' sense of efficacy and esteem.
The New Basket: Acceleration. One of the critical differences between Acceleration and Remediation is that Acceleration represents multiple practices. Remediation is, however, a single practice within the Acceleration.
Accelerating or Accelerated Learning integrates multiple strategies and practices for differentiating learning and building individual achievement by effectively supporting and challenging students before, during, and after each lesson to ensure they all move towards meeting or exceeding grade-level expectations.
The idea of Accelerating Learning is not new. However, it is more important than ever to shift from Remediation alone to the integration of Acceleration practices when trying to close any learning gaps. The shift toward Acceleration has often led districts and schools towards misconceptions about how and when these practices are most effective.

Learning-Focused began providing professional development on Acceleration in 2003.
"All the wonderful ideas will be used immediately to help our struggling students be successful."
- Lisa Neeld, TN
Misconceptions About Accelerated Learning
Like many educational initiatives, the goal is to make the implementation of evidence-based interventions like Accelerated Learning as easy as possible. This has led to common misconceptions about the most effective ways of maximizing impact within a school, including:
Misconception: Acceleration is a single practice.

Accelerated Learning incorporates specific practices that help students learn grade-level requirements. While none of these practices are new, there remains a gap in how teachers and schools use them to support students. In fact, connecting the appropriate practice with its corresponding cause is challenging for many reasons; most notably the continuum of learning needs found among students. Acceleration practices include:

Previewing
Differentiated Assignments
Vocabulary
Writing
Scaffolding
Remediation
Review

Misconception: Acceleration occurs outside core instruction.

Oftentimes implementation of Accelerated Learning is focused on teachers that support core instruction, such as the intervention teacher. In truth, Acceleration is most effective when implemented school wide and each teacher having a major role in supporting students.

Misconception: Acceleration is simple to implement.

Accelerated Learning requires proactive planning because its success depends on advance collaboration to determine specific supports that are utilized before, during, and after the lesson. The complexity of implementing Accelerated Leanrning is one of the key reasons that Remediation alone remains the primary intervention in the classroom because technology makes implementing it so easy – simply carving out time on a computer.

Misconception: Acceleration replaces Remediation.

Remediation must be used as one of the Acceleration practices. The key difference is how much time is spent on Remediation. The more Accelerated Learning practices implemented in a school the less Remediation will be needed.

Misconception: Acceleration lowers grade level learning expectations.

Accelerated Learning vs Remediation: When we rely on Remediation alone, or a reactive cycle, we inadvertently lower our expectations for students, which can create frustration for both students and teachers. Changing outcomes for students who fall behind grade level starts with a real belief that they can get back on track — and a willingness to make it the default expectation.
"Learning-Focused instructional strategies implementation has helped our special education and regular classroom teachers to begin working together as a more cohesive unit. They are now teaching for a common goal with the same high expectations for all. These strategies have certainly made a big difference in our special education students' CRCT scores. Preview and acceleration strategies, especially, have served as a vehicle for special education teachers to move beyond remediation."
- Special Ed Director
The Power of Accelerating Learning
"Learning is social, emotional, and academic. Children learn best when they feel safe, affirmed, and deeply engaged within a supportive community of learners." -Linda Darling Hammond
Students' perceptions of their own ability influence their learning. When we Accelerate Learning for students, we build their sense of self-efficacy and self-esteem, which means they are more likely to participate in classroom discussions and activities in a rigorous classroom environment. After all, everyone, not only children, are motivated to learn the next set of skills for which they believe they are ready. Integrating Acceleration in your lessons empowers you to set high expectations for student learning because students will receive the necessary support to feel competent and confident that they can learn.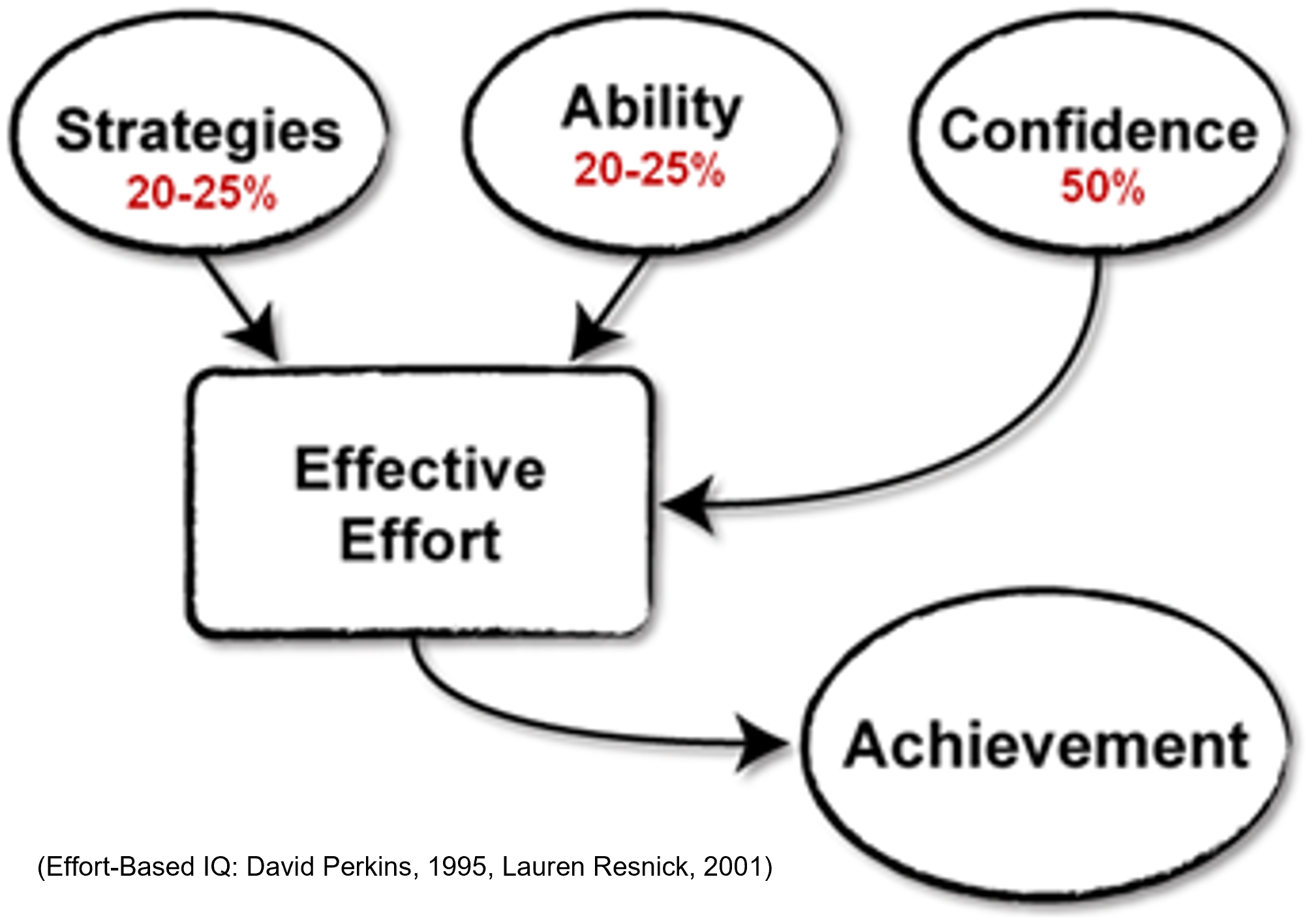 Schools implement Acceleration Practices to ensure that students…
What difference can 10 weeks of Acceleration make?
What if in 10 weeks, you could achieve something that some schools strive for years to accomplish.
Just take this example, in a school where struggling students attended an Acceleration lab (just one option) the teacher tracked test results over a 10 week period.
Here are the results.

Leading with an Instructional Framework that includes Acceleration
Exemplary Schools focus support where students need to be successful - in the grade-level classroom lesson! By aligning all support programs for students to the instructional framework, they ensure that learning is not fragmented or based on below grade-level expectations.
In Exemplary Schools, Accelerated Learning techniques are used throughout the building to:
"The Learning-Focused Acceleration practices has forced us to think differently about the delivery of instruction. Our teachers are planning for how every student learns, and our test scores have outpaced the state for the first time ever. The Learning-Focused Framework has given us the model to achieve exemplary status."
- Thomas M. Richardson, Director of Curriculum and Instruction
Implementing Accelerated Learning Techniques and Practices at Your School or District
The past several years have brought numerous challenges to teaching, including the need for teachers to use technology for instruction. For many, this required a brand new set of teaching skills. However, with support from colleagues, time, and practice, teachers in classrooms everywhere reimagined how to use technology for learning.
The Takeaway: Teachers learned these skills while still continuing to teach! It was not done outside of their planning and teaching quality lessons. Students can do this too! Using Acceleration Practices, instruction is designed to address students' biggest intervention challenges while remaining focused on grade level learning expectations.
With the Learning-Focused Accelerate Learning series, you have the flexibility to choose the Acceleration Practices that are most needed in your school or district.
Not sure where to start? Schedule a call to discuss your goals with us.
Accelerated Learning Solutions: Accelerate Learning Professional Development Series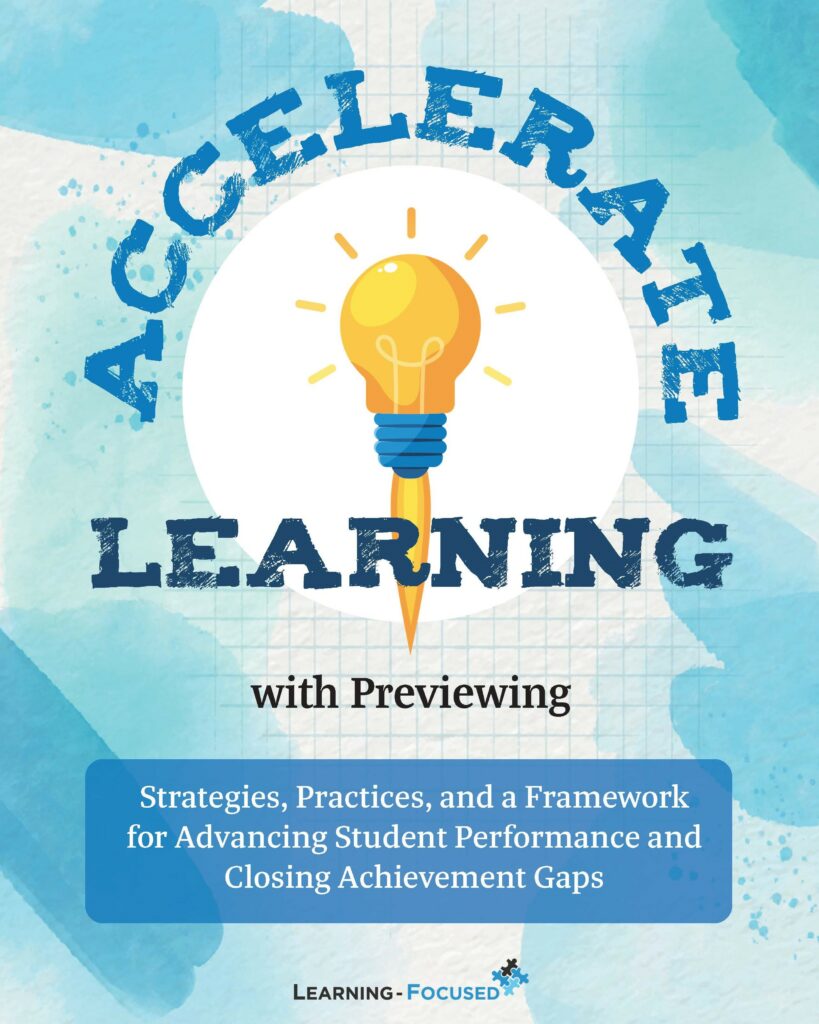 Educators in Exemplary Schools rethink how lessons and instruction are organized and focus on a different type of intervention - Previewing. Accelerate Learning with Previewing provides a proactive approach that replaces most re-teaching and remediation with specific strategies and practices that ensure all students successfully meet grade level expectations.
Accelerate Learning with Previewing can even help students who are 1, 2, or 3 grade levels behind achieve success! Accelerate Learning with Previewing is supported by additional self-paced courses on Review and Remediation.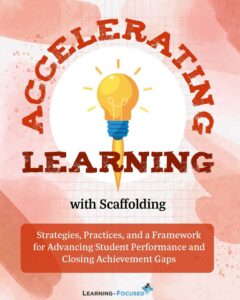 Teaching students of varying backgrounds, experiences, and readiness levels is one of the most challenging aspects of teaching. It is often compounded when students come to class one or more grade levels behind.
When students receive the support they need to be successful during grade-level activities and assignments, their confidence builds to try more complex and challenging tasks. Their confidence and ability are bolstered by the success that comes with proper support. Scaffolding strategies provide support that are gradually removed as students master new knowledge and skills.
Accelerate Learning with Scaffolding provides strategies that meaningfully engage students with the content without overloading teachers!
.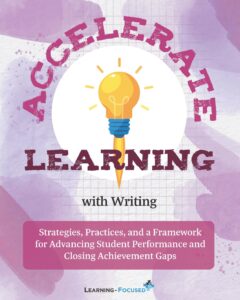 In many schools, writing is limited to filling in worksheets, responding to short answer questions, and an occasional essay project. However, this misses the true impact of incorporating more writing throughout all lessons. Exemplary Schools emphasize the importance of shared responsibility for students' literacy development across all content areas because writing is one of the strongest influences on increasing students' comprehension. Students who are frequently expected to write what they are thinking, experience a significant increase in achievement.
Accelerate Learning with Writing provides strategies for integrating thought-provoking writing activities throughout all lessons that increase learning in all academic disciplines by engaging students to think about the content and demonstrate their understanding through writing.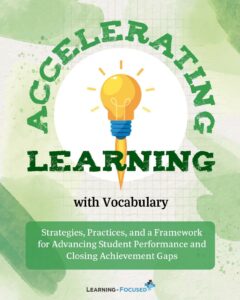 Comprehension and learning are severely impacted by students' vocabulary knowledge, much of which is initially based on factors outside the control of teachers and schools. Traditional vocabulary instruction does not effectively and persuasively increase student comprehension. To increase comprehension, all lessons should include a robust amount of proven vocabulary strategies and instruction.
Accelerate Learning with Vocabulary provides innovative methods for connecting strategies that ensure students learn key grade-level content and academic terms. You will discover a system where students learn and utilize key vocabulary terms before, during, and at the end of all lessons - which dramatically improves comprehension!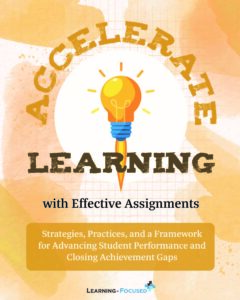 Despite a data-driven approach to school improvement, most schools find themselves stuck within an achievement trendline of ten percentile points, unable to break away to consistently higher academic growth and proficiency levels.
Unfortunately, this often leads to a fallacy that students are unable to do the work expected of them. This may cause teachers to lower their expectations for students, and in upper grades causes schools to place students into less challenging courses. As a result, students are provided a less demanding curriculum with low-level assignments and instruction at all levels, all of which lead to low assessment scores. This Cycle of Low Achievement locks schools into an achievement rut, unable to close learning gaps.
Exemplary Schools use a system for consistently planning lesson assignments and assessments that reflect grade-level expectations differentiated to meet the needs of all students. Accelerate Learning with Effective Assignments provides a roadmap for generating differentiated assignments and assessments that integrate content, literacy, and thinking skills from grade-level standards.
Contact us to discuss how Learning-Focused can help you with your school or district's instructional goals.
Set an appointment to discuss your school or district's goals, previous implementation, and how Learning-Focused as an education partner can assist you with achieving them.