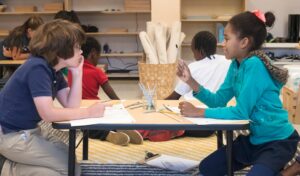 "Talk is probably the single most effective memory device."
Eric Jensen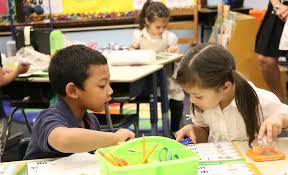 Why attend Collaborative Pairs?
Collaborative Pairs is a learning strategy where students are paired during lesson instruction in order to think together about the information they are learning. Frequent opportunities to process information with a partner throughout the lesson utilizes the second most effective research-based strategy, summarizing. Utilizing frequent Collaborative Pairs helps ensure that students are actively engaged and thinking about the content they are trying to learn. Collaborative Pairs should be used throughout lesson instruction as an organizational structure to promote productive discussions, engage students in higher order thinking, deepen understanding of content, and gather on-going formative assessment data.

There are various types of collaboration that can be used, depending on the Learning Goals of an activity. A typical implementation of Collaborative Pairs primarily focuses on the turn and talk strategy, but this is lower on the continuum of impact when compared with others.
Learn more about the continuum of impact and how the multiple strategies for Collaborative Pairs can effectively be used as an organizational tool to equip students with some of the most important 21st Century skills, the ability to communicate clearly and collaborate with others.
Watch this 6th Grade teacher incorporate Collaborative Pairs in her Physical Education class.
"It was great! I learned a lot and will definitely implement strategies."
- Carolyn Jackston, GA
Awesome variety of collaborative pairs and summarizers. You modeled the collaborative pairs we want. Enjoyed it!
- April Ward

Collaborative Pairs provides teachers with a planning process that increases teacher effectiveness and accelerates learning by ensuring that Collaborative Pairs are used frequently and effectively throughout a lesson. Learn how to maximize student learning with a variety of Collaborative Pairs strategies intentionally selected to support the Learning Goals of a lesson.
In addition to the resources below ($60 value), you have the opportunity to learn,
ask questions, gather tips from your colleagues and from the institute facilitator.
"As a 27-year veteran, I was trained "old school" in that a strong teacher meant strong classroom management. That equated as every student seated and on task - typically a pencil/paper task. It has been a hard but wonderful change for me to learn that I cannot only ALLOW my 1st graders to talk and collaborate, but to ENCOURAGE them to do so. I love what LEARNING-FOCUSED has done for me, but more importantly what it is doing for my students!! Talking, collaborating, sharing, and learning does not have to be chaotic, but really and truly can be learning-focused."
Kay Sampson, TN

This virtual institute is designed for synchronous learning, through Zoom. The synchronous learning will consist of one three-hour session. Specific access to the learning session will be provided once registration is complete.
Agenda information will be provided based on chosen start date.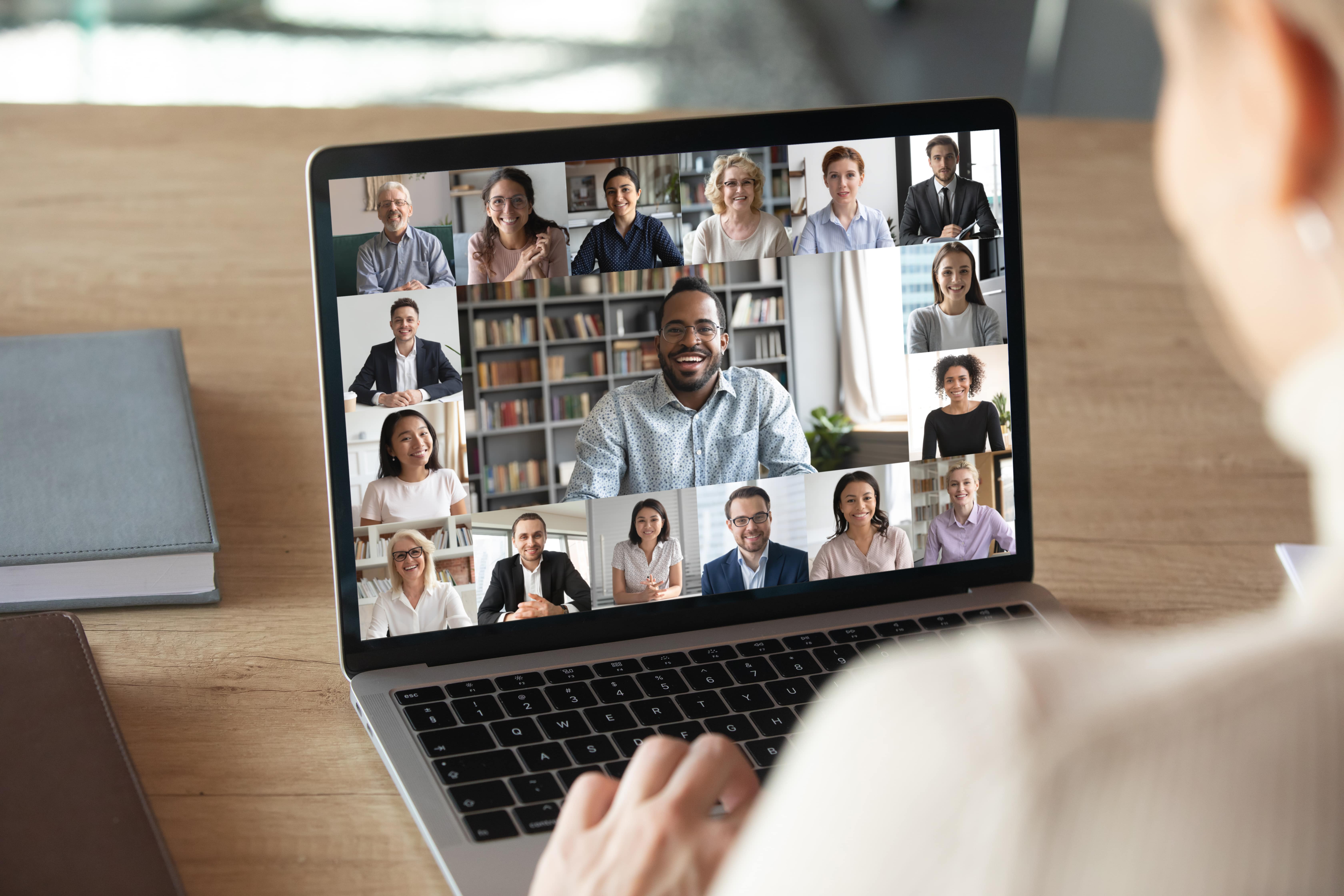 Starting Dates
March 10, 2023 from 2:30-4:30
Schedule your training to meet your district's availability.
Registration closes one week prior to the start date!
Registration Details for Collaborative Pairs.
Registration for the institute is $75 per person.
Learning is better in teams! Register three people and receive a $25 discount off the third registration fee!
Participants are accepted on a full-payment, first-come, first-served basis only. If using a Purchase Order, please send it with your quote.
Frequently Asked Questions
Common questions about this event.
Prerequisites for Collaborative Pairs
This institute does not require any prerequisites.
You will be provided access to specific online courses once you register and pay the registration fee.
Attending Synchronous Sessions
What if I am not able to attend the scheduled synchronous session? If a participant is unable to attend a scheduled synchronous session, your registration will be applied to the next available planned session.  The synchronous session will be approximately three hours with interactive activities that allow you to learn from the presenter and colleagues.
Terms and Conditions
Learning-Focused reserves the right to reschedule a session because of low registration. In the unlikely event of the institute being rescheduled, all registrants will be notified and will receive full refunds or be able to transfer their registration to another date. 
Can't Attend?
If you are unable to attend an event you have registered for, contact Learning-Focused through email at customerservice@learningfocused.com or by calling 866-955-3276 no later than 30 calendar days prior to the start of the event to request a credit that can be used for Learning-Focused products or events.
After the 30-day timeframe, you are ineligible for a credit, but you may send a nonregistered person in your place, with registration confirmation or written authorization from you.
For all cancellations, there is a $50 processing fee.
Academic Credit
As a Learning-Focused professional development participant, you may qualify for academic credit through your school or district. Therefore, you may request a certificate of attendance by emailing customerservice@learningfocused.com, based on three hours of professional development.