Elementary School Closing the Achievement Gap 10-15% Over the State Average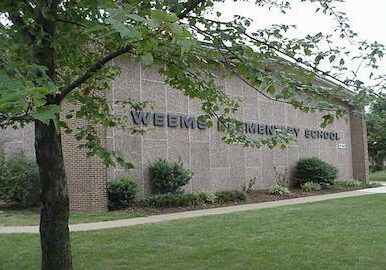 Weems Elementary in Manassas, Virginia, is a school of around 700 students in grades pre-Kindergarten through fourth grade. When Weems first began working with Learning-Focused, over half the student population was English Language Learners (ELLs). 
In their five years working with Learning-Focused, they have received awards and recognition both at the national and state level:
In 2015, Weems received an award from the National Center for Urban School Transformation. Traveling to Dallas, Texas, to present, they shared their story of how their school, with over 70% of their students qualifying for free and reduced meals, broke through the achievement gap and even surpassed the state's average by over 10% to 15% for growth and achievement.
The Weems administrative team was also invited to join Governor McAuliffe at the Virginia Governor's Mansion to be recognized as one of the 13 winners of the Governor's Award. They also earned the distinction of being the only overall school to be awarded the Governor's Award for innovation and excellence in education for closing the achievement gap.
The leadership team credits their success to the targeted ways in which their teachers have successfully generated and fostered active learning among their students and the support of the Learning-Focused Instructional Framework.
Implementing The

Learning-Focused

Framework:Jumping in With Both Feet
As a first year principal, Dave Rupert, then Principal of Weems Elementary, started the implementation of The Learning-Focused Instructional Framework on day one just as the Manassas City Public School system was beginning to implement Learning-Focused schools across the division.
The Learning-Focused Instructional Framework begins with deliberate work to move the administrative team and educators out of the comfort zone of typical professional development.
As opposed to proceeding slowly and piecemealing the framework together, Weems Elementary started their commitment by jumping in with both feet, ready to implement all components. While challenging, they knew it would be worthwhile as they began to define the school's culture and expectations for teachers, students, and administration.
The leadership team pointed to several key elements of implementation that led to initial success:
"Implementing the framework was a progression, a marathon, and not a sprint. We set up structures and expectations and understood that by starting small and following the plan, we would get there."
Dave Rupert, Principal
5 Year Later: Closing the Achievement Gap with the

Learning-Focused

Instructional Framework
After five years since the initial implementation, the leadership team continues to strive toward continual improvement.. As Principal Dave Rupert says, "this is my fifth year, and we're still getting better. We still implement every year because it goes up and down and back and forth."
Principal Rupert also noted that the most significant impact was instructional planning. Seeing the power it has had, and the collaboration, and progression, has made a considerable impact. It has been especially significant during common planning. Using the structure of the lesson, teachers are able to collaboratively design the curriculum and assessment of the lesson during common planning. They found out that if they could use this as the overall structure, then they would still have the opportunity to add their own style and input with lesson instruction. This allowed them to adapt the strategies and Learning Activities to better meet.
Teachers all did it together; they had input. They sat around with their computers and talked about individual students, their classes, their needs. They added notes in their collaboration tool for the lesson plan. This made them very efficient when they walked out of that planning period, and they were ready to plan for the following week. Principal Rupert shared, "The biggest piece for me is the instructional planning piece that I'm so proud of my teachers. That's the proudest thing that I've had here. They pulled the lesson up on the smartboard, and they go through it, or the Epson, or they break out their computers. They collaboratively sit there and plan their lesson and walk out feeling good. Our instruction has improved for that, and our learners are better for it."
The Principal's Final Thoughts
Principal Rupert shares, "I would absolutely recommend implementing the Learning-Focused instructional framework. It's been vital to the success that we've had at this school. It's helped connect students with clarity in what they're learning. It's helped give teachers a basis to think about how to make that learning clear in the classroom. It has provided support and a common language in terms of visuals, the expectations for visuals, the expectation for the learning goal, how to share that in a school of 700+ students.
We're near year five, and I still feel that we're implementing and getting better and continuing to do things, but the successes that you'll have, and the teachers who want to step up have something that helps keep them organized. In today's day and age, where there are so many things, and planning can be one more thing. They're planning anyway, so why not use this as the efficiency piece to walk out and have a basis for your students and expectation for your students.
I'd absolutely say that I would go for it, but monitor the progress, be patient, understand that there's an end in mind, and you'll get there. Just keep that expectation and keep a common vocabulary and an understanding that you're with them in the implementation, and you're going to work together, and you're going to get there."